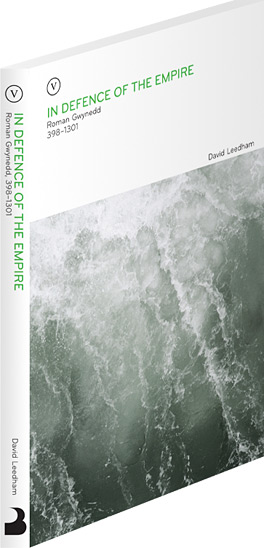 DESCRIPTION

Gwynedd was one of the three most powerful states of medieval Wales, but its history goes back deep into the Roman origins of Britain.
The last ever imperial relief force sent to Britain inflicted a devastating defeat on the invading Picts and Irish in the battle of the Forest in 398. In the aftermath, Paternus, a Roman officer descended from a line of British rulers, was appointed to a north Wales command.
This was the birth of the north Wales kingdom of Gwynedd, which, with its expansionist policies, did more than any other Welsh kingdom to foster the idea of a united Wales in the centuries which followed. Gwynedd was acutely aware of its Roman past, nowhere better seen than in its emblem, now the Welsh flag – the red dragon of the Roman cohorts.
Emerging in a welter of war, invasion, defence, ethnic cleansing, disease, dynastic division, all under the imminent threat of Armageddon, the resilience of Gwynedd's early rulers should not be underestimated. In Defence of the Empire tells the heroic story of this transformation from Roman province into sovereign state.
When Edward I conquered Gwynedd in 1283 he was not only completing the Norman conquest of Britain south of Hadrian's Wall. He was also recreating the Roman province. His great imperial headquarters in Wales, Caernarfon Castle, is, paradoxically, the supreme testimony to Gwynedd's achievement and history, an embodiment in stone of all that Gwynedd had fought for.


IMPRINT

Published in 2010 by
Penrhyn Books,
83 Five Ashes Road,
Westminster Park,
Chester CH4 7QS
info@penrhynbooks.com
www.penrhynbooks.com
© David Leedham 2010
All Rights Reserved. Except
as permitted under current
legislation, no part of this
work may be photocopied,
stored in a retrieval system,
published, performed in
public, adapted, broadcast,
transmitted, recorded or
reproduced in any form or
by any means, without the
prior permission of the
copyright owner.
A catalogue record for this
book is available from the
British Library.
ISBN: 978-0-9565884-5-6
Book and Cover Design:
FL@33, Agathe Jacquillat
and Tomi Vollauschek,
www.flat33.com
Printed in United Kingdom