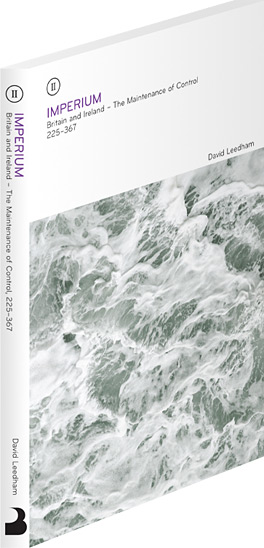 DESCRIPTION

In the earliest centuries of their recorded history, Britain and Ireland flourished under Roman rule, direct and indirect. In Ireland, Cormac mac Airt, king of Meath, became one of that island's greatest early kings. But his reign saw the first attacks on Ireland by allmarachs, overseas men, at a time when Rome was also beginning to worry about Mediterranean piracy.
In Imperium we discover the vital strategic importance of Ireland to Britain down the centuries. First highlighted by Agricola in AD81, it would have been impossible for Roman (and later) Britain to have ignored events in Ireland. Irish raiding into Britain and pro- and anti-Roman struggles continued. Inadequate imperial responses triggered army revolts and usurpations, especially those of Carausius and Allectus. Constantine the Great was proclaimed emperor in York in the wake of campaigns against the Irish and their Pictish allies.
Not until the late twentieth century was the policy of dominating and controlling Britain's smaller island neighbour formally and publicly abandoned, when Britain announced that it no longer retained a selfish strategic interest in Ireland and that it was for that country's people to decide its own fate.
Drawing on neglected sources for early Irish history and placing these alongside British and imperial accounts, Imperium underlines the inevitable link that was established between Britain and its neighbour to the west almost two millennia ago.

IMPRINT

Published in 2011 by
Penrhyn Books,
83 Five Ashes Road,
Westminster Park,
Chester CH4 7QS
info@penrhynbooks.com
www.penrhynbooks.com
© David Leedham 2011
All Rights Reserved. Except
as permitted under current
legislation, no part of this
work may be photocopied,
stored in a retrieval system,
published, performed in
public, adapted, broadcast,
transmitted, recorded or
reproduced in any form or
by any means, without the
prior permission of the
copyright owner.
A catalogue record for this
book is available from the
British Library.
ISBN: 978-0-9565884-2-5
Book and Cover Design:
FL@33, Agathe Jacquillat
and Tomi Vollauschek,
www.flat33.com
Printed in United Kingdom