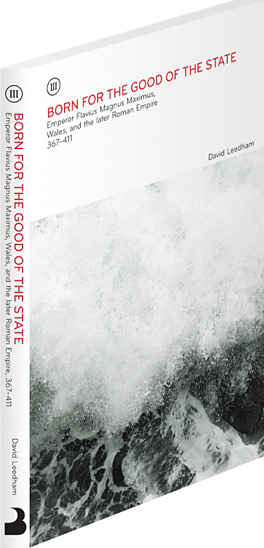 DESCRIPTION

A shoot of Britain's own most bitter planting.
Magnus Maximus, the Macsen Wledig of Welsh literature, was proclaimed Roman emperor in Britain in 383. The story of his rise to power is as fascinating as his reign. He was linked to the greatest figures of his time, including Martin of Tours, Ambrose of Milan, and Theodosius the Great. Indeed, his life can be understood only when it is set against the enormous changes that were affecting the empire in the fourth and fifth centuries.
Magnus Maximus is of far greater importance in the history of Britain than is usually recognized. Military service in Britain and marriage into a prominent Romano-British family established a link between Maximus and the island diocese that was to have enormous consequences. Despite his dramatic and squalid end in 388, Britain continued under an administration still loyal to his memory and his family until 398. Even later when Britain produced three more 'usurpers', two of these were closely related to Maximus.
For the past thirty years or more Magnus Maximus has been relegated to the realm of myth and legend. Here, however, the early history of England and Wales, with Maximus at its centre, is uncovered and the full story told.


IMPRINT

Published in 2010 by
Penrhyn Books,
83 Five Ashes Road,
Westminster Park,
Chester CH4 7QS
info@penrhynbooks.com
www.penrhynbooks.com
© David Leedham 2010
All Rights Reserved. Except
as permitted under current
legislation, no part of this
work may be photocopied,
stored in a retrieval system,
published, performed in
public, adapted, broadcast,
transmitted, recorded or
reproduced in any form or
by any means, without the
prior permission of the
copyright owner.
A catalogue record for this
book is available from the
British Library.
ISBN: 978-0-9565884-3-2
Book and Cover Design:
FL@33, Agathe Jacquillat
and Tomi Vollauschek,
www.flat33.com
Printed in United Kingdom